Culture and Service in Thailand
12 days
Bangkok, Chiang Mai, Chiang Rai (Or add 3-day extension)
What makes touring Thailand so special? This tour is part service, part sightseeing, and 100% life-changing experience. In northern Thailand, the girls will work with local communities on projects related to education, the environment, or community development. Ask yourself: What's cuter than a happy elephant? Answer: A sanctuary of happy elephants! Observe the gentle giants and help maintain the place they call home. Finally, head to bustling Bangkok as the final stop of this Thailand travel tour to explore winding canals, historic sites, and local flavors.
The physical rating of this program is: Active: 3 (out of 3)
Read our FAQs for this program
Explore the many ways girls can take the lead on this tour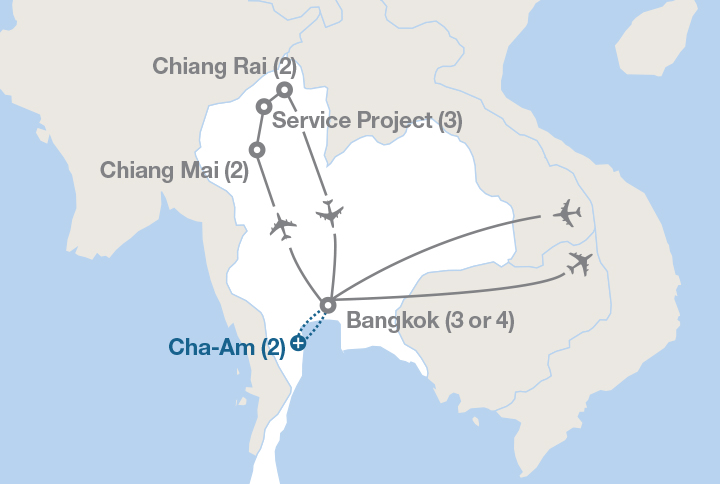 Day 1

Day 2

Day 3

Day 4

Day 5

Day 6

Day 7

Day 8

Day 9

Day 10

Day 11

Day 12
Interested in learning more about this tour?
Day 1

Day 2

Day 3

Day 4

Day 5

Day 6

Day 7

Day 8

Day 9

Day 10

Day 11

Day 12
Interested in learning more about this tour?
Your experience includes
This all-inclusive global experience gives students the chance to explore the world — at the guaranteed lowest price.
Airfare & transportation

Your flights—covered. Buses, trains, cruise ships, ferries and subways—covered. We take care of getting you around so you can enjoy the ride.

Hotels

Safe, comfortable hotels with private bathrooms will be waiting for you at your destination.

Regional-style meals

Traditional breakfasts and dinners bring local flavors to life as part of your tour experience. Lunches are left up to you to discover favorite dishes of your own.

Full-time Tour Director

Your culturally connected Tour Director is with your group 24/7, providing deep local insight while handling all on-tour logistics.

Guided Sightseeing

Gain insider knowledge and cultural perspective from your licensed local guides while they lead you on sightseeing tours.

Entrances

Step inside the world's most cherished treasures with your local guide—we'll take care of lines and tickets.

Expert Local Guides

Your expert local guides are natural historians, adding cultural insight and global perspective on your sightseeing tours.

Personalized Learning Support

Our personalized learning experience engages students before, during and after tour, with the option to create a final, reflective project for academic credit.

Continuous Support

Your dedicated EF team helps you every step of the way—from recruiting and enrolling travelers to planning and managing your tour.

Worldwide Presence

EF has over 500 schools and offices in more than 50 countries worldwide so wherever you go, we're there too.

24-hour Emergency Service

Travelers and their families can count on EF's dedicated emergency service team.

Peace of Mind Program

Feel secure knowing your group can change their destination or travel dates due to unforeseen circumstances. Learn more about your flexible options at eftours.com/peaceofmind.